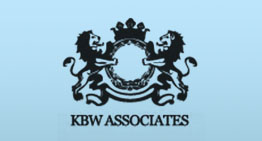 KBW Associates Ltd
Under investigation since 01 Dec, 2018
You might be eligible for compensation
Register for our newsletter to get the latest updates on FSCS's handling of the KBW Associates failure direct to your inbox. Sign up at the bottom of this page.
FSCS's position
KBW Associates Limited was placed into liquidation in November 2018. FSCS is accepting claims against this firm.
KBW Associates Limited (KBW) was a firm based in the United Kingdom that operated as an Discretionary Fund Manager (DFM). KBW provided broking and trading services on a managed, advisory and execution-only basis to its clients. Through KBW, investors were given access to markets such as foreign currency exchange, contracts for differences, futures and options.
KBW was authorised by the Financial Conduct Authority (FCA). The FCA placed certain rules upon KBW that applied to the financial services activities that it carried out. Specifically KBW's permissions only allowed it to deal with professional clients and eligible counterparties. The high-risk nature of some of the investments offered meant that some may not have been suitable for retail or unsophisticated investors.
Latest update
18 Jun, 2019
Although FSCS is accepting claims against KBW, claims have not yet been passed to our claims processing teams for assessment. This is because we are still carrying out investigations into the activities of KBW.
Firstly, we need to establish whether there are 'protected claims' against KBW. For this to happen we need to know that KBW owes a civil liability to customers that would enable them to sue the firm in court.
Importantly, this civil liability must be in connection with a regulated activity carried out by the firm. Currently our investigations are focussing on the activities carried out by KBW and whether the firm was acting outside its permissions.
In addition we're looking into the business model KBW operated. We're particularly interested in the relationships KBW had with other authorised and unauthorised firms. This analysis will help us reach a view on what regulatory breaches may have occurred.
We hope to have concluded our initial investigations by the end of August 2019, at which time claims will be passed to our claims processing teams for assessment.