Cryptocurrencies – are they covered, and what's the risk?
Find out what cryptocurrencies are, whether they're risky and whether they're covered by FSCS.
What are cryptocurrencies?
Cryptocurrencies are also known as crypto coins, digital currency and cryptoassets. Examples include Bitcoin, Ethereum and Litecoin.
The 'crypto' part of the word 'cryptocurrency' means 'hidden' or 'secret'. This refers to the secure nature of cryptocurrency – it's nearly impossible to forge or track, due to the way it is created. However, that doesn't stop it from being a risky investment.
Are cryptocurrencies safe?
The Financial Conduct Authority (FCA) sees cryptocurrencies as speculative, very high-risk investments. So, if you invest in cryptocurrencies, you could easily lose all your money.
The FCA has also issued warnings about the risk of investing in contracts for difference (CFDs) that have cryptocurrencies as the underlying asset, and it is currently considering banning the sale of these products to retail customers.
In October 2020, the FCA banned the sale of derivatives and exchange-traded notes (ETNs) to retail consumers that reference certain types of cryptoassets.
Are cryptocurrencies regulated?
It depends on the type. Exchange tokens such as Bitcoin and other cryptocurrencies (see below) are only regulated in the UK for money laundering purposes. If you buy these types of cryptoassets, it's unlikely FSCS would be able to protect you if something went wrong.
Some types of cryptoassets may be regulated, depending on how they are structured. For example, the FCA does regulate security tokens. They include tokens that provide rights, including:
Ownership position.
Repayment of a specific sum of money.
Entitlement to a share in future profits.
Cryptocurrency risks
If you're thinking of investing, you should get independent financial advice about the risks involved. Here are some of the risks to consider:
Volatile value. Cryptocurrency market value can be extremely volatile (see Bitcoin graph below). You could lose a lot, very quickly.


Hard to spend. You can't necessarily spend cryptocurrencies like cash. Very few sellers will accept cryptocurrency as payment. So, generally you'd have to sell them in exchange for traditional currency.


Intangible. Cryptocurrencies are intangible – they only exist in a digital peer-to-peer network.


Unregulated. Cryptocurrencies are often unregulated. So, if your funds are stolen, there isn't an easy way to get your money back.


Unprotected. Cryptocurrencies often aren't protected by organisations like the FCA or FSCS (more on this below). It can be difficult to work out what type of financial product they are, and whether they're regulated.
Let's look at how volatile the price of Bitcoin has been in comparison to more stable investments: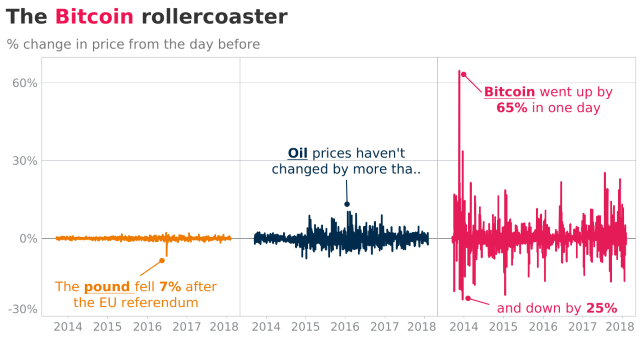 Image source: Bank of England
Will FSCS protect my investment in cryptocurrencies?
As each person has their own set of circumstances, we can't say for sure if we could protect your cryptocurrency investment without first investigating your case. However, you can ask cryptocurrency providers whether FSCS protects their product.
We pay compensation for many financial products, but only if all the following apply:
the FCA or the Prudential Regulation Authority (PRA) regulate the product (see below);
the financial services firm involved is authorised by the FCA or PRA, and has gone bust, or stopped trading;
the firm has breached a conduct rule or has been negligent, which has caused you financial loss; and
you are eligible to receive FSCS compensation under our rules.
Types of cryptocurrencies
Here are the three main kinds of cryptocurrencies, according to the FCA:
1. Security tokens
Security tokens have similar features to general investments. This might include asset ownership rights, entitlement to a share of future profits, repayment of a specific sum of money, or tradability.
Security tokens may also include general investments that are underpinned by, or derive their value from, cryptoassets, such as CFDs.
As a result, FSCS is likely to protect these investments.
2. Exchange tokens
Products like Bitcoin and Litecoin and other types of cryptocurrencies are exchange tokens. These aren't regulated by the FCA or PRA.
As a result, exchange tokens are not eligible for FSCS compensation.
3. Utility tokens
Utility tokens give access to services or products, a bit like pre-payment vouchers. They could also be similar to rewards-based crowdfunding.
As a result, utility tokens are outside FCA regulation (but could be e-money), and so would be outside FSCS protection.
Initial Coin Offerings
Initial Coin Offerings (ICOs) are a digital way of raising funds from the public using a virtual currency (or cryptocurrency). The FCA might regulate some of these, but it depends on how they're structured. Each case would have to be looked at individually.
The FCA has issued a warning saying that ICOs are very high risk and speculative, and only experienced investors who have thoroughly researched the project should consider them.
Conclusion
While cryptocurrencies can offer a good return on your investment, they're also very high risk. You could easily lose all your money.
Again, if you're thinking of investing, you should get independent financial advice first.
Check out our investments articles for more information and guidance.
Page last updated 27 May 2021.