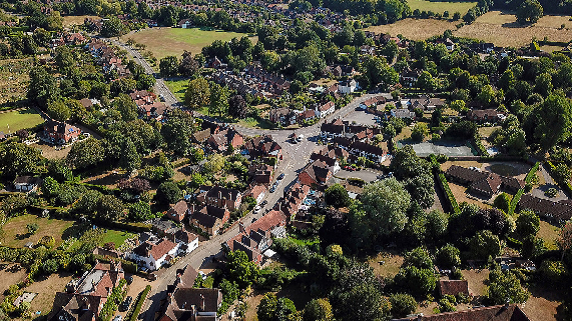 Going green: protecting your money from greenwashing
In a recent article, FSCS Chief Counsel, James Darbyshire, and Senior Lawyer, Emma Brown, reflect on the growing interest in ESG Funds, "green" investments and the emerging risks of "greenwashing".
With environmental considerations increasingly shaping investment decisions, what do people need to know about "green" products to avoid bad outcomes? An extract from the article helps to answer this question below, or read the full article here.
As consumers, many of our purchasing decisions are now shaped and informed by a desire to have a positive impact on the environment and the lives of all those who are affected by our consumer choices. This is increasingly influencing not just our day-to-day purchasing choices, but also informing the types of investment products we select.
This shift in consumer consciousness is leading businesses across all sectors to proactively respond, through the products they offer, their supply chains and their governance structures.
While these are positive developments, challenges exist for consumers and firms looking to engage with "green" or "sustainable" investments that aim to deliver positive impacts beyond financial return. Lack of common definitions for "green" or "ESG" investments, differing regional approaches to regulation, and an absence of widely adopted minimum standards are among some of the challenges that have the potential to cause, at the very least, confusion and, at worst, a real risk of significant consumer harm by creating an environment that is open to abuse.
We are already seeing growing evidence of "greenwashing" in the context of retail investment products and, at FSCS, we have seen some of the early, more severe examples of the consumer harm this can cause.
What is ESG and greenwashing?
ESG is shorthand for Environmental, Social and Governance. In the world of financial services, investors are increasingly using these non-financial factors to identify risks and growth opportunities.
However, investments marketed as "green" are coming under increasing scrutiny amid concerns that the pledges underpinning their "greenness" may be well-intentioned but not consistently achieved, or even designed to intentionally mislead. This risk is made worse by the fact that there is no global standardised approach to how ESG factors are measured.
"Greenwashing" is the term commonly used to describe this concern where investors are misled about the green credentials of the product they are considering.
What FSCS has observed?
FSCS has seen increasing levels of pension mis-selling claims over the last few years, where FSCS protection has been triggered by the failure of regulated independent financial advisors (IFAs) and SIPP Operators. In that context, we have witnessed some of the early and, in some respects, more extreme examples of greenwashing, with ESG claims used to encourage investors to place their pension funds in investments which were in fact nothing more than smoke screens for the misappropriation of investor funds.
One such example is seen in the case of Global Forestry International (GFI) – Brazilian Teak Forestry Fund. GFI marketed a green retirement pension scheme, which had underlying investments in the Brazilian teak forestry fund. The scheme was presented as a secure, well-managed, ethical investment scheme that would help protect the Amazon rainforest and support local communities. GFI attracted approximately £37m of investment before going into liquidation. Sadly, the investment was in fact a fraud and, earlier this year, the Serious Fraud Office (SFO) brought a successful criminal prosecution against the two directors of GFI. As many of these investments were made on the advice of now-failed IFAs or SIPP Operators, FSCS has been able to protect the majority of these investors.
Protecting consumers
As with any investment, the key consideration for consumers is to always look behind the claims being made. A "green" or "sustainable" investment might tick all the ESG boxes based on the marketing material, but it is still essential to look behind the words and do your due diligence. A good starting point is to ask the following questions:


Is the firm authorised by the FCA?
Is the investment product regulated?
What guidance is available about the type of investment you are considering?
Is the investment one that has been available for a while?
How has it performed to date, both in the traditional investment sense but also has it lived up to its green credentials? What is the data set out in the company's annual report?
Is there investment-specific advice available via the FCA website or advice sites?
Does it enjoy protection from the Financial Ombudsman Service and the FSCS?
FSCS research suggests that, for pensions and investment products, consumers who are aware of FSCS protection are at least 15 percentage points more likely to be confident in choosing and managing these products. We have developed online tools that help consumers to check whether an investment or pension product is FSCS protected.
Investors will want to consider a combination of factors to get the complete picture and to make sure the investment aligns with their green preferences and financial objectives.
Where next?
Governments from around the world will meet at Sharm El Sheikh, Egypt for the COP27 climate conference in November 2022. The agenda will look to 'pave the way for future ambition to effectively tackle the global challenge of climate change'. There will no doubt be continued expectations that corporations, including the finance industry, will play a decisive role in bringing us closer to meeting the UN's Sustainable Development Goals.
It seems a key foundation for success will be achieving greater clarity for investors on firms' ESG claims as they seek to make their investment decisions. In the UK, the FCA's ESG Strategy and Business Plan sets out its commitment to build trust and integrity in ESG-labelled products and the supporting ecosystem. On 25th October 2022, the FCA published a consultation paper which proposed a package of new measures designed to clamp down on greenwashing, including how terms like "ESG", "green" or "sustainable" can be used.
It will be interesting to see how events at both the global and domestic level develop and, in turn, shape and inform "green" investments and protect consumers.
Read the full article on LinkedIn.