Guide to financial protection in the UK
The financial services industry can seem like a confusing place, full of organisations that begin with F. Here's a rundown of some of the organisations you should know and the different roles they play.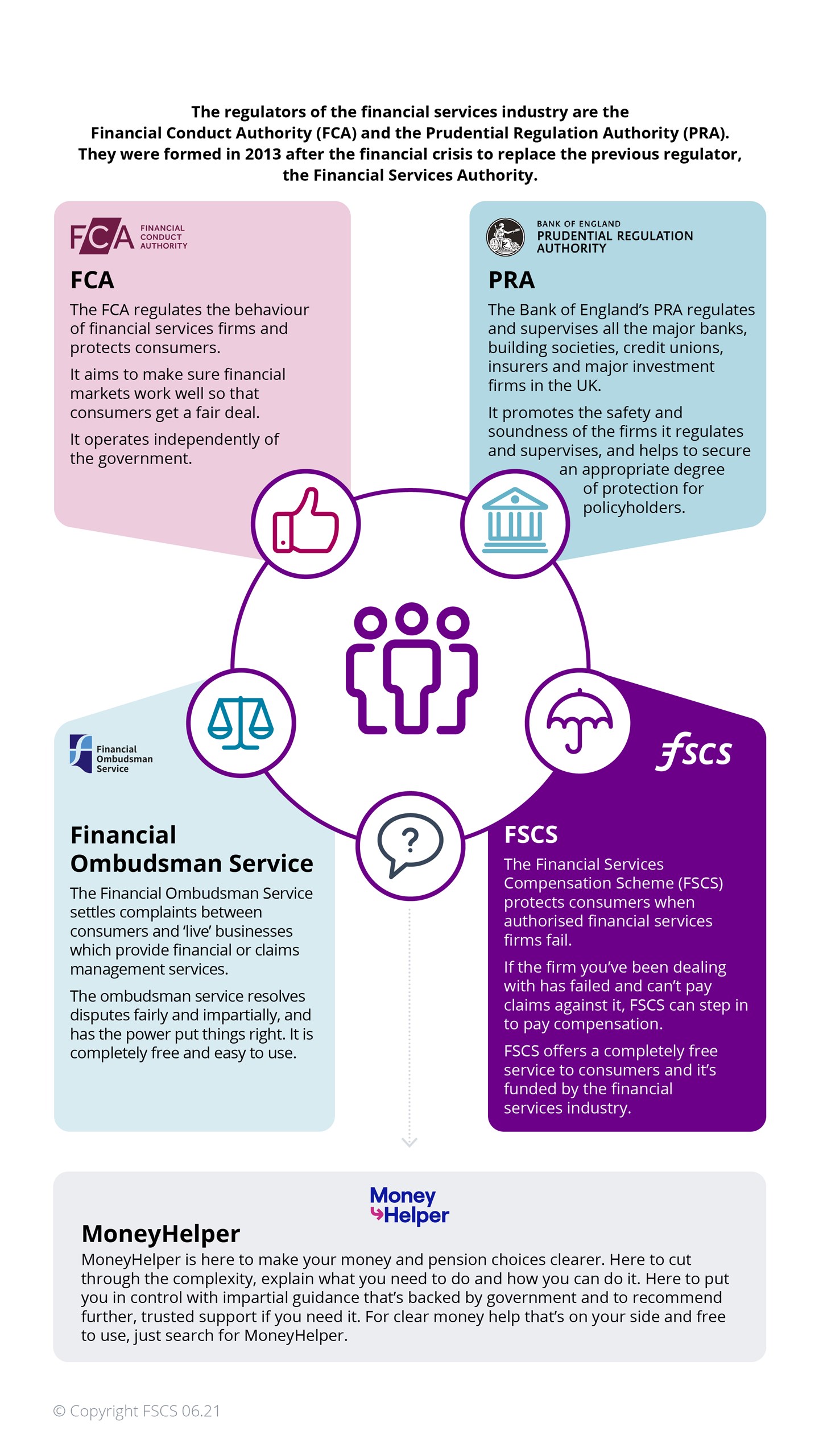 The regulators of the financial services industry are the Financial Conduct Authority (FCA) and the Prudential Regulation Authority (PRA). They were formed in 2013 after the financial crisis to replace the previous regulator, the Financial Services Authority.
FCA
The FCA regulates the behaviour of financial services firms and protects consumers. It aims to make sure financial markets work well so that consumers get a fair deal. It operates independently of the government.
PRA
The Bank of England's PRA regulates and supervises all the major banks, building societies, credit unions, insurers and major investment firms in the UK. It promotes the safety and soundness of the firms it regulates and supervises, and helps to secure an appropriate degree of protection for policyholders.
If you have a problem with a financial firm that's still trading:
Financial Ombudsman Service
The Financial Ombudsman Service settles complaints between consumers and 'live' businesses which provide financial or claims management services. The ombudsman service resolves disputes fairly and impartially, and has the power to put things right. It is completely free and easy to use.
If you have a problem with a financial firm that's gone out of business:
FSCS
The Financial Services Compensation Scheme (FSCS) protects consumers when authorised financial services firms fail. If the firm you've been dealing with has failed and can't pay claims against it, FSCS can step in to pay compensation. FSCS offers a completely free service to consumers and it's funded by the financial services industry.
If you need advice about your pension or money generally:
MoneyHelper
MoneyHelper is here to make your money and pension choices clearer. Here to cut through the complexity, explain what you need to do and how you can do it. Here to put you in control with impartial guidance that's backed by government and to recommend further, trusted support if you need it. For clear money help that's on your side and free to use, just search for MoneyHelper.
Wider Implications Framework
In January 2022 the launch of the Wider Implications Framework formalised the existing collaborative links between the Financial Ombudsman Service (FOS), the Financial Conduct Authority (FCA), the Financial Services Compensation Scheme (FSCS), The Pensions Regulator (TPR) and the Money and Pensions Service (MaPS).
Providing a more structured collaboration between members on issues with potential wider implications, as well as greater transparency for wider stakeholders, the Framework will achieve better outcomes for consumers, small businesses and the financial services industry.
See more on the FOS website.