What is a complaint?
A complaint is when you're not satisfied with our service. This can be made over the phone or in writing.
(Note: For appeals relating to your claim decision, please visit our appeals page.)
How to make a complaint
You can make a complaint using our contact us form.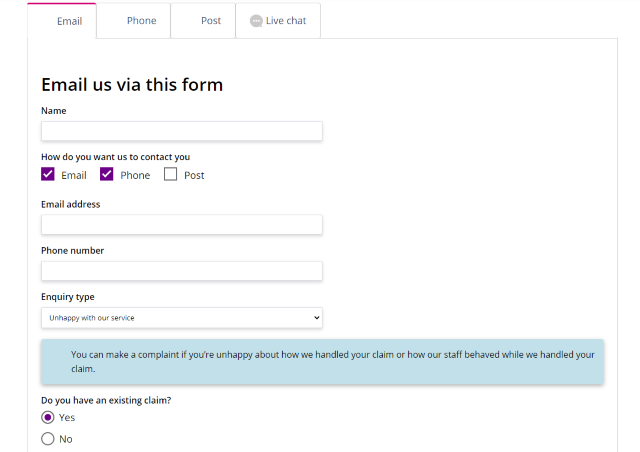 A member of the FSCS complaints team will carry out an investigation into your complaint. This investigation will be independent of the team responsible for your claim.
We'll let you know we've got your complaint within 2 working days and aim to respond within 20 working days. We'll let you know if it might take longer.
How we handle complaints
We'll try to make sure that:
it's easy to make a complaint;
we explain what you can expect throughout the complaints process;
we treat your complaint fairly, consistently and promptly; and
we let you know the outcome of our investigation into your complaint.
While we do our best to deliver a fair and quality service, sometimes mistakes can happen. If we find we've made a mistake, we'll do everything we can to put it right.
Escalated complaints
If your complaint is about the way we have handled a claim or the service we have provided (as opposed to the decision outcome) and you're still unhappy having gone through our complaints process, you can escalate your complaint to our independent investigator. In this case, we'll write to you to explain what will happen.
The independent investigator will check how we've handled your complaint from an impartial point of view. (Please note: the independent investigator can't change the result of a compensation claim decision. For more information, see our appeals page.)
When the independent investigator has finished their review of your complaint, they will:
send a copy of their report to you;
send a copy of their report to the FSCS Board; and
present their report to our Chief Operating Officer and Chief Counsel.
Complaints made against someone working at FSCS
If you make a complaint about the conduct or behaviour of a member of staff, we'll make sure it's handled by a staff member who is more senior to the person you are complaining about.
Abuse policy
We can refuse to deal with people who are abusive to our staff.
We can also refuse to deal with those who continue to pursue a complaint even after the complaints process is complete.
We'll let you know if we're going to stop communicating with you.
Confidentiality
We hold all personal information in line with our data protection policy and privacy policy. You can also ask us to send you these policies in the post.