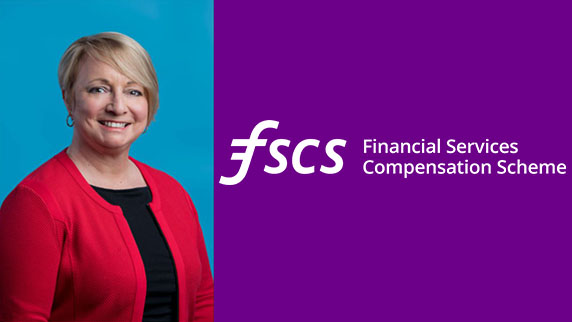 Fortnightly financial 5 minutes #11 Lila Pleban
For the final interview of 2022, we decided to change the format slightly and look back on the year. Nigel Yeates asked Lila Pleban, Chief Communications Officer, at FSCS about the top five things she is most proud of FSCS achieving this year.
As this calendar year comes to an end, what are the top 5 things the organisation should be most proud of?
1- Well, where do I start? I think one of the most exciting developments this year has been the FSCS podcast - Protect your money with FSCS, which aims to explain our protection in simple, friendly terms to give people the knowledge they need to make informed financial decisions.
This excellent new channel recently celebrated its 1st birthday. During the year we've covered topics including financial comprehension, how to claim direct, and explained the key terms we use at FSCS, plus SIPPs, scams, insurance failures and much more. We hope you've all found it useful and are sharing the episodes with family and friends. Please follow us wherever you listen to your podcasts, so you never miss a new episode.
2 - This year has also seen - for the first time since 2019 - a new product coming under FSCS's remit. Pre-paid Funeral Plans are now eligible for our protection, giving consumers greater confidence in this part of the market.
If your funeral plan provider is regulated by the Financial Conduct Authority (FCA) and the provider goes out of business, you may be FSCS protected. You can see much more information on this on our site. For all types of funeral plan claims, you are protected up to £85,000 per eligible person, per firm. This was an immensely collaborative effort, with work from colleagues in Operations, Resolution, Legal, Communications and IT – as well as input from funeral plans firms, funeral directors, trade bodies and the regulatory family.
3 - 2022 also saw the conclusion of several long-running pieces of work, most notably London Capital & Finance with the government's compensation scheme successfully closing at the end of October. Under it, FSCS had returned more than £115m to bondholders who we had been unable to compensate via our usual rules. We've also efficiently handled several high-profile firm failures, for example, MCE Insurance Company Ltd, which saw FSCS returning almost £16m in premiums to thousands of policyholders and paying more than £38m in claims.
4 - Many colleagues and I have also been out and about engaging with industry and consumer groups around the country throughout the year, including an excellent recent trip to Scotland. This is very much a two-way conversation, to understand their views and bring their knowledge in to help us make better decisions and enhance our work.
These relationships across the sector are going to be crucial in the coming years. We've also delivered a number of new data and insight pieces this year, which we have been delighted to share, to support our work around reducing consumer harm including publishing the 'Balancing act of compensation' and a series of research reports (i.e. Understanding and awareness of FSCS protection, Pensions & SIPPs) so that others can benefit from what FSCS sees and learns while carrying out its vital work. As we've mentioned before, there's no 'silver bullet' in reducing consumer harm, but by working together, and sharing data and insights, we can make a number of incremental improvements.
5 - We've again been recognised both for our work as a scheme and as an employer. We've won 8 national awards this year across all areas of Customer and Employee Experience, with awards for many teams across FSCS. Highlights include Best Financial Services Customer Experience at the UK Customer Experience Awards, and 12th place in the Inclusive Top 50 UK Employers. Diversity and inclusion are a cornerstone of our workplace, as it's crucial that our workforce reflects society and our customers. We've also continued to provide an excellent service for our customers, maintaining our record-high satisfaction scores throughout the year.
Thanks very much Lila for those insights and here's to a great 2023!
For more information on what FSCS protects, see our What we cover page.
The content of any discussions shouldn't be taken as an indication of future FSCS policy positions. The views expressed by guests are their own and don't reflect the views of FSCS.
We would also love everyone to dedicate a regular extra five minutes to check their financial products and services are FSCS protected.