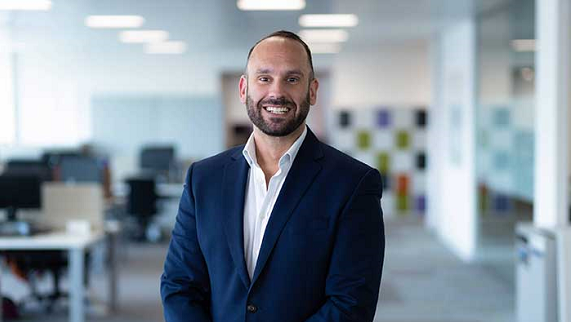 Fortnightly financial 5 minutes #16 Richard Lane
Nigel Yeates, Communications and Stakeholder Business Partner, speaks to Richard Lane, Director of External Affairs and Operating Subsidiaries at StepChange Debt Charity, about debt trends, governmental engagement and financial guidance tips.
Please tell us about StepChange Debt Charity, your role within it and how the organisation makes a difference.
StepChange Debt Charity is the UK's leading debt advice charity. For 30 years we have worked with partners to help people at risk of or struggling with problem debt to take back control of their finances and their lives.
We offer a comprehensive range of free advice, support and solutions, from budgeting to repayment plans and from insolvency to mortgage advice. Our in-depth analysis of an individual's financial circumstances takes full account of their situation and needs, to help them choose a realistic path out of debt.
I have the privilege of leading the charity's External Affairs department, which covers our policy, campaigning, communications and internal comms functions. As well as delivering services, we also campaign for policy changes to better support those who are financially struggling. I also oversee StepChange's two operating subsidiaries – StepChange Financial Solutions and StepChange Voluntary Arrangements that provide mortgage and equity release advice, and insolvency solutions.
With the current cost of living crisis, how do debt trends look compared to previous years?
The cost of living crisis has already taken its toll on millions of people's finances – our latest polling reveals that more than two in five UK adults (43%) are taking action such as rationing day-to-day necessities including energy, food and housing costs, missing essential bills, or relying on help from friends or family in order to keep up with credit repayments, with more than one in three (35%) cutting back on utilities. For many households, the rising cost of food, energy and other essentials is understandably causing worry, particularly for those on the lowest incomes who are struggling to keep up with the pace of inflation that we've seen over the last few months.
Where StepChange clients previously would need help with problem debt due to a change in their personal circumstances, something like redundancy or the breakdown of a relationship, since last June, the rising cost of living has become the leading cause of debt for new clients contacting the charity. That's a real change for our clients and for how we respond to their needs.
How much is technology helping you as an organisation to better serve your customers and how big a role do you think personal finance planning technology will have?
I really think StepChange is at the cutting edge of investing in new technology in the debt advice sector.
StepChange's service providing free and impartial debt advice is designed to be flexible and tailored to a client's individual circumstances. Clients can choose to complete full debt advice over the phone, or through the charity's online debt advice tool, or through a mixture of both.
And more and more clients are choosing to go through the process in their way, in their own time – using a mixture of our website, web chat or the phone.
While StepChange has offered an online service for most of its history, until recently, clients on Debt Management Plans (DMP) had to fill in a physical form to activate their plans, which could take up to a month. This process has been streamlined and moved online to create a quicker and smoother experience.
With demand increasing due to the cost of living crisis, it's more important than ever that service levels are optimised through an omnichannel offering of both telephony and online free debt advice and solutions.
Can you tell us more about your work and campaigning to feed into governmental debates across the UK?
StepChange Debt Charity's external affairs work focuses on using our clients' experiences to make the evidence-based case for changing regulation, law and practice, to reduce the risk of problem debt and the harm it causes to people.
Some of our most significant policy and campaigning work over the past decade includes lobbying government alongside partner charities and consumer groups to bring in FCA rules to curb harm caused by payday lending; implementation of Breathing Space (also known as the Debt Respite Scheme); and ongoing work to reform the bailiff industry. Over the past few years, we've also been calling on the government to regulate interest-free Buy Now, Pay Later lending, and we warmly welcomed the recent news from HM Treasury that a consultation on draft legislation for regulating the sector has just been launched.
I am sure every consumer you speak to has different circumstances, but what would be your top 5 financial guidance tips?
The first step for someone struggling with problem debt or worried about their finances is to create a detailed budget, this will help them to get a clear picture of their income and outgoings and see where they may have money available to clear debt or prioritise payments. StepChange has a useful guide to creating a budget.


It's important to make sure you are getting all the help you are entitled to. StepChange's benefits calculator is a really good place to start in helping you easily identify any benefits you can claim to help increase your income and improve your situation.


Think about the priority of each of your debts. StepChange can help you with this. The priority should always be to pay your most important bills first (like housing costs). Then try to meet the minimum payment on every debt you have each month, to avoid default charges and the effect on your credit rating. After that, you should pay most towards the highest-cost borrowing – that's the debt on which you'll have to pay most interest and charges. If you don't have enough to cover all this, that's a clear indicator that you could benefit from debt advice.


Try to avoid temptation from short term loans, sales, and online marketing for credit such as options like Buy Now, Pay Later. Taking out credit might seem like a quick and convenient way to get money fast, but it's important to stop and think about the consequences of borrowing, and whether this may worsen your financial situation later on. Before you do borrow, think about whether you will be able to make repayments including interest.


StepChange urges anyone worried about the rising cost of living to explore the support available – the charity's cost of living hub is a useful starting point. If you're feeling stressed about your finances, help is available. StepChange can offer free, impartial and confidential debt advice both online and over the phone.
Thanks very much Richard for those thoughts and please keep up the good work.
For more information on what FSCS protects, see our What we cover page.
The content of any discussions shouldn't be taken as an indication of future FSCS policy positions. The views expressed by guests are their own and don't reflect the views of FSCS.
We would also love everyone to dedicate a regular extra five minutes to check their financial products and services are FSCS protected.