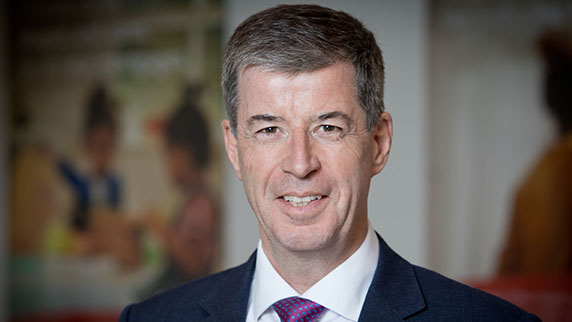 Fortnightly financial five minutes #22 Martin Kearsley
Nigel Yeates, Communications and Stakeholder Business Partner, speaks to Martin Kearsley, Banking Director at the Post Office about the role of Banking Hubs.
Please tell us about your role at the Post Office and your role in the BankHub project?
I am the Banking Director for the Post Office, responsible for all cash in and out of our branch network of 11,500 locations nationwide. We handle approximately £40-£45 billion of cash annually through our network, offering cash withdrawal and deposit services to personal and business customers of almost every UK bank. We have seen significant growth in cash services through the Post Office as banks continue to restructure their networks.
In response to widespread national concerns about loss of access to cash, Natalie Ceeney established a Community Access to Cash Pilot (CACP) programme in 2019 and engaged with us enthusiastically due to our existing services and footprint. Together, we established a proposed new shared model (which we called BankHub). We suggested several models of support for cash in communities being left behind by bank branch closures, and the BankHub seemed to make great sense from a shared infrastructure perspective. Natalie and her team showed great interest and faith in the model as we built and deployed two (in Cambuslang and Rochford) which subsequently opened to great local, press and stakeholder acclaim.
Why do you think shared banking hubs and other forms of Access to Cash services in communities will be increasingly important moving forward?
As the CACP programme came to a successful conclusion, promoting 'proven-by-pilot' options to help support cash in communities, Cash Access UK was formed by the Banks and has set about delivering solutions based on community recommendations from LINK (evaluating local needs vs. local facilities).
The BankHub idea has matured into a more formally named 'Banking Hub', and over 100 have now been recommended and we are actively working with CAUK as they find locations to house them, and we can then deliver essential services to communities nationwide. The rationale is fairly obvious commercially – banks no longer need to run several single-brand expensive branches in each town, they can now share the costs of one shared location among themselves, and create a far more cost-effective way to continue delivering regulatorily-committed banking services (not just 'cash' services – which we do for them) such as advice on all aspect of a customer's financial wellbeing, digital inclusion and explanation, and just provide that human element that goes missing as soon as they shut a branch. There is wide speculation about how many there could eventually be in the coming years – ranging from 100-200 up to 'many hundreds', but I prefer to think there will be 'as many as are needed' by the communities that need the support.
The CACP pilot also tested other options, and there is some value in deploying automated cash depositing services (similar to ATM technology for cash withdrawals) in suitable locations where no other services are available. These will be limited in number and limited by how much can be deposited (with no money-laundering checks, unmanned devices would otherwise be an easily abused route to move 'dirty' cash into the banking system – so upper limits will apply to help prevent that).
It means that THE main way of supporting legitimate cash in communities around the country will be face to face, through proven and trusted brands such as Post Office.
Why has the Post Office been so committed to developing the banking hub idea?
Post Office is one of the UK's most trusted brands and holds a special place in the hearts of all of us. In previous 'unbranded' trials of shared hub type locations, take-up was very low simply because people will not pay in hard-earned money to something they don't understand or trust. When we piloted the two Post Office branded BankHubs in Cambuslang and Rochford, one of the main reasons stated by customers for such strong take-up almost immediately after opening was that they 'knew' what Post Office stood for, and the reassurance that this was therefore a proven and known route (after years of TV license, Car tax, benefit payments, bank access etc.) gave it an instant credibility.
When we first proposed the shared bank access model, branded under the Post Office brand, with cash supported by us, allowing banks to focus on helping their customers with other banking needs, the instant acceptance of that model proved the value of us all working in partnership.
Our commitment to support communities nationwide is one of our core principles – whether that is rural or more urban centres, either wealthy or more deprived, many customers continue to use and rely on cash for all or part of their financial management. Rural communities don't have reliable online signal, many retailers don't want to pay high card processing charges, many customers prefer the certainty of cash spent vs. cash earned. Whatever the reason, cash is a major economic driver in every community. Diminishing access to it (through bank closures) seriously undermines some of those already-struggling High St businesses and families. We see our role as remaining the stalwart for every one of those groups, making sure that however they want to run their family or business accounts, Post Office will be in their community supporting them.
FSCS has a range of materials that banks, building societies and credit unions display and share with customers in branch. How does this work with BankHubs?
The very nature of a financially focussed centre in the heart of every community representing every part of the finance industry lends itself perfectly to helping spread the FSCS mission, support and advice available. Every Post Office Banking Hub will welcome any information and material that can be shared to help customers better understand their financial options.
Now, on a more personal note, if £10,000 landed in your lap tomorrow, what would you do with it?
Post Office has been proud to support the Trussell Trust for the last couple of years – donating (so far) over £600k to help them support Food banks UK-wide. Having seen first-hand the value that Trussell Trust has been able to offer some of the most struggling families through the cost-of-living crisis, I'd probably donate a true windfall of £10,000 to them.
I also enjoy restoring vintage British motorcycles, so if the windfall was £10,264, I'd possibly spend the bonus £264 on a specific piece of engineering work I need done on one of them!
Thank you Martin, a really interesting discussion.
For more information on what FSCS protects, see our What we cover page.
The content of any discussions shouldn't be taken as an indication of future FSCS policy positions. The views expressed by guests are their own and don't reflect the views of FSCS.
We would also love everyone to dedicate a regular extra five minutes to check their financial products and services are FSCS protected.