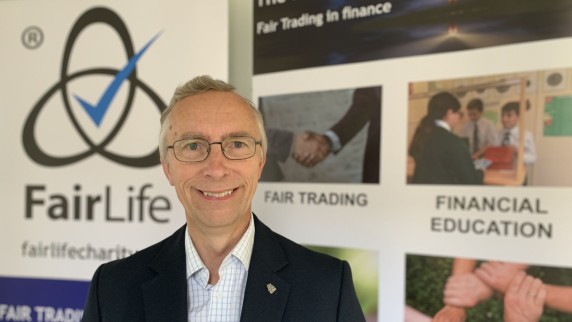 Fortnightly financial five minutes #24 Paul Boscott
Nigel Yeates, Communications and Stakeholder Business Partner, speaks to Paul Boscott, Co-Founder at the FairLife Charity.
Please can you tell us about your background, the FairLife Charity and your role there?
I had been at Oxford University for eight years, building computer algorithms in medicine, when I realised, they would work better in finance. Banks were hard to convince, but finally Barclays took a gamble, and they went on to become the biggest quantitative asset manager in the world. Computers were the future, particularly for risk management. I ran my own firm for a decade, after which a colleague and I were in a position to give something back. That was the birth of the FairLife Charity. An ambitious project to improve financial education across the country and give customers a route to finance products they can trust.
One of your charity's main goals is promoting financial education, where do you see the big gaps currently?
Everybody understands the importance of financial education. It is on the curriculum for secondary schools and there are some wonderful groups currently making a big difference, but there is no disguising that the outcome nationally is weaker than people would like. There are many reasons for this. It's partly a resource problem, partly an engagement problem and partly a problem with the complexity and fluidity of personal finance to mention just three. Combining the many reasons with the scale of the problem, led to it being seen as an unsurmountable challenge. But having faced similar obstacles 20 years before, I was confident there was a way.
You talk about the next generation of children understanding finance like this generation understands technology, why is that so critical?
People's financial health is like their medical health, it is better for them and their society if problems are kept to a minimum. That is becoming harder to do for two reasons: consumer choice is growing, and people are becoming ever more responsible for their own financial futures.
Children understanding finance like they currently understand technology is crucial, because it can determine so much about their lives. Where they live, where they holiday, when they retire. It can underpin their self-esteem and life chances, making the difference between a successful career and one blighted by financial difficulties.
How will you help initially, and can you ultimately tackle this challenge?
Once the FairLife Mark is established across Britain, then yes, we will have the wherewithal to take on this challenge. To help deliver a structural uplift in financial education for all children.
The charity's dual goals of raising standards in finance and improving financial education create a virtuous circle. One that builds both knowledge and trust - knowledge to know what you need and trust in the products you rely on. With the right coordination this will lead to trusted companies, offering decent products, to financially educated consumers. That is the FairLife Charity's purpose and vision.
To get there we are taking a stepwise approach. We have setup a Foundation to aggregate revenue from the fair-trading mark and are also encouraging schools to become FairLife Schools, committed to promoting this life-skill whenever practical. We will be funding projects at these and other schools, together with related opportunities, as we grow.
You say that linking fair trading with financial education helps both. Why is that?
Using the same logo when teaching financial education in schools, helps children to see that it is a real-world topic - one their parents have to deal with every day. The fair-trading mark also ensures that the industry acts to support the education programme, and discourages firms from inventing new ways to profit unreasonably. This makes the subject easier to teach and easier to learn.
We realised early on that financial services and financial education are in fact intrinsically linked. Each able to be supportive of the other, or part of the other's problem. This led us to realise that improving financial education is directly linked to trust in financial services. Improving either is best done by improving both.
That was the FairLife Charity's epiphany. It led to the virtuous circle and to a framework that has now been developed collaboratively with a range of trade bodies and consumer groups. There is still a long path ahead, but the direction is clear, and the goals are within our reach.
Thanks very much Paul. FSCS also has a role in raising consumer trust and confidence in the UK financial services industry and recently produced some research around this.
For more information on what FSCS protects, see our What we cover page.
The content of any discussions shouldn't be taken as an indication of future FSCS policy positions. The views expressed by guests are their own and don't reflect the views of FSCS.
We would love everyone to dedicate a regular extra five minutes to check that their financial products and services are FSCS protected.