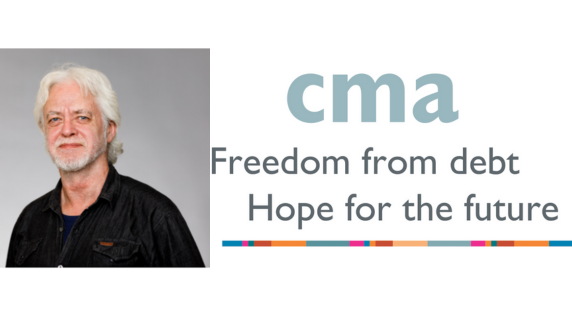 Fortnightly financial five minutes #26 John Franks
Blessing Zoe-Shamah, Content Editor and Nigel Yeates, Communications and Stakeholder Business Partner, speak to John Franks, Chief Operating Officer at Community Money Advice about debt advice and financial education.
You recently celebrated 16 years at Community Money Advice, congratulations! Please tell us about the organisation and what your role involves.
Community Money Advice (aka CMA) is a national debt advice charity. We enable community groups, including churches, housing associations, and others, to establish locally based, face to face debt advice services. We currently have 185 affiliate outlets across the UK, for whom we provide a range of services including: policy and procedure framework; training; casework management software; adviceline; field operations and audit. We also have a central 'Hub' providing remote (phone, email, online) advice direct to clients. We hold Money & Pensions Service (MaPS) accreditation as an organisation and likewise for our debt adviser training courses. Our USP or POD is that the advisers in our centres put no limit on the number of appointments with a client and will provide advice and support for as long as needed. Our advice services are also, of course, entirely free.
One of your main focal points is helping people with debt management. Can you explain why it's so important to get on the right track to achieving financial freedom?
The personal impact of indebtedness can be enormous. It can bring about deep fear and anxiety; mental health problems; relationship breakdowns; loss of home; even addictions; and at the worst, suicide. Our advisers always have to be aware of these factors, and will provide referrals to professional specialist support when appropriate. This is bad enough, but it is now a major national problem, impacting on our society and the economy too: recent debt advice sector surveys estimate that 1 in 8 households in the UK now have debts they cannot repay. Helping people to get out of debt is life changing, that's why we do this work, and why our strap-line is 'Freedom from Debt, Hope for the Future'.
Have you spotted any trends in terms of the advice you give and the rising cost of living?
The cost of living crisis has made an already bad situation worse. We have seen an increase in the use of credit to pay, not for luxuries, but for food and the basics of life. We have seen an increase in 'negative financial statements', i.e. where a client or family's income simply cannot cover their cost of living expenses; often referred to as 'in work poverty'. And whereas for many years we have primarily advised clients to engage with repayment plans, negotiated with creditors, we now have a massive increase in clients needing an insolvency solution, especially Debt Relief Orders (in England & Wales), which are effectively a form of bankruptcy for people on low incomes and with minimal assets.
What are your top three money saving tips that you've been sharing with the people that reach out to you?
It's hard to have an absolute top three, as different tips can be more or less useful for different clients, but: buy second hand, not new; buy from basics ranges in supermarkets and cook simple meals, avoiding expensive ready meals; and look for the best deals when renewing utility and insurance contracts. These make sense for all.
And finally, a question we ask most of our guests, on a more personal note, if £10,000 landed in your lap tomorrow, what would you do with it?
I would genuinely want to give some of it to help others in need (the disastrous flooding in Libya is on my mind) but if it was purely for me, then I'd put it into the upkeep of mine & my wife's 19th century cottage.
Thanks very much John, I am sure you and your organisation will continue to help many more people.
For more information on what FSCS protects, see our What we cover page.
The content of any discussions shouldn't be taken as an indication of future FSCS policy positions. The views expressed by guests are their own and don't reflect the views of FSCS.
We would love everyone to dedicate a regular extra five minutes to check their financial products and services are FSCS protected.