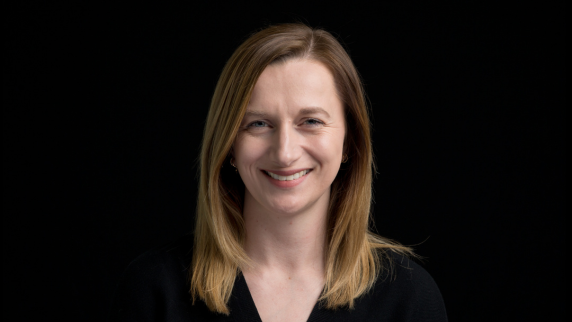 Fortnightly financial five minutes #27 Kate Steere
Nigel Yeates, Communications and Stakeholder Business Partner, speaks to Kate Steere, Deputy Editor at Finder about financial decision making and financial education.
Please can you tell us about your background, Finder, and your role there?
Finder is a personal finance website that helps consumers compare products so they can make better decisions and save money. We review and compare bank accounts, credit cards, investing platforms, insurance and lots more. 
I've been writing about banking and finance for 14 years. Firstly, at the media research company Nielsen, then as a freelancer, before I moved into my role at Finder. I'm deputy editor of fintech, which means I oversee our content for banking, mortgages and cryptocurrency. Another part of my role is running our UK awards programme, which includes our innovation awards. These awards recognise financial providers who are innovating to deliver real value for their customers. 
Your site is all about investing and saving, why do you think people often find this area so daunting?
I think it comes down to financial education – which is unfortunately lacking in the UK. Our recent report Financial education: Are parents equipped to fill the gap? found that while 2 in 3 young people say they get most of their financial understanding from their parents, less than half of parents are confident in their ability to teach their children about key money topics. 
If people don't know how financial products work, they can be nervous about making decisions. Particularly when it comes to investing and saving. Poor financial literacy means that people struggle with understanding the impact inflation can have on their savings or the benefits of compound interest. Let alone when it can make sense to start investing and how to go about doing it. 
Finder's mission is to help people navigate those complex decisions. We're focused on using our expertise to break down tricky financial subjects and make things a little less daunting. 
You have talked in recent articles about fraud still being a big issue for lots of people. Do you see financial technology developments i.e. in-app features fighting this issue?
With each new technological development, you see new types of scams emerging - as well as new ways to combat scams. We've seen impersonator scams on the up, with young people proving particularly vulnerable. 

However, providers are looking to combat fraud in new ways. In-app features such as being able to check if you are on an active call with someone from your bank or biometric approval when making a payment, give consumers some peace of mind and a way to keep themselves safe. However, financial providers need to continue to innovate and create new security features in order to keep pace with fraudsters.  
You recently announced your Investing & Saving Innovation Awards 2023. What are some of the most exciting innovations you are seeing this year? 
It's tough to innovate when the economic climate is uncertain. The innovations I've been most impressed with are the ones that are focused on customer behaviour and what sort of products people really need. This can be things like app features to make it easier for people to save, or creating products that give people more information about the things that matter to them, like personalised ESG (environmental, social and governance) scores. 
The providers that are really excelling in this area are creating flexible saving and investing products where people can have more say about where they put their money. 
Now a question we ask most of our guests, on a more personal note, if £10,000 landed in your lap tomorrow, what would you do with it?
Being in the process of buying a house at the moment, I would use part of the sum to bolster my emergency fund. Just so that if it turns out I do need to buy a new washing machine, I can access it easily! As I've made sure to put my money in a market-leading instant access account with FSCS protection, if there are no unexpected costs with the house move, I can leave it there to earn some interest. 
For the remainder, I would look to invest in a stocks and shares ISA. As this is a surprise windfall and I don't have any immediate plans with it, I can leave it in investments to grow over time.
Of course, I could ignore all my own advice and book a trip to Disney World for the kids! But I'll try to keep my sensible personal finance hat on instead.
Thanks very much Kate, some really useful insights there.
For more information on what FSCS protects, see our What we cover page.
We would love everyone to dedicate a regular extra five minutes to check their financial products and services are FSCS protected.
The content of any discussions shouldn't be taken as an indication of future FSCS policy positions. The views expressed by guests are their own and don't reflect the views of FSCS.
We would love everyone to dedicate a regular extra five minutes to check their financial products and services are FSCS protected.