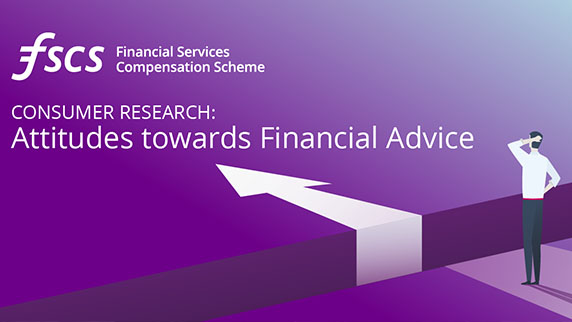 FSCS Research - 3rd report published
FSCS research reveals that most UK adults don't seek regulated financial advice, believing it to be "too expensive" and "for the wealthy".
FSCS has just published the third in its series of consumer research papers, sharing insights from exclusive research on consumer trends, attitudes and behaviours towards financial products and the protection that FSCS provides.
Our latest paper reveals that almost two-thirds (64%) of UK adults with savings, investments or a mortgage have not sought regulated financial advice in the last five years. More than one in five of those who obtained free guidance rather than regulated advice said they did so because they believed the service was "too expensive". More than half (55%) of those with any financial products think that "paying for financial advice is for the wealthy".
Young people between the ages of 18 and 34 were most likely to agree that it should be easy to invest without needing professional financial advice. More than half of UK millennials (60%) and Gen-Z (57%) with financial products agree they can find good financial advice online, and almost half (44%) of Gen-Z believe they can source good financial advice on social media.
Additional findings from the study include:
Across the various regions in the UK, adults with savings, investments or a mortgage living in Greater London had been the most likely to seek financial advice in the last five years – with 49% of them saying they did so. This was followed by South England (38%), Scotland (36%), North England (34%), and Wales (33%). Adults living in the Midlands were the least likely to seek financial advice (31%).
When asked if there were any circumstances in which they would pay for regulated advice the most common answer, among those UK adults with savings, investments, or a mortgage, was after receiving a lump sum of money (e.g., inheritance, bonus, insurance payout).
To find out more, visit our Consumer research page to download our findings and to sign up for alerts when we release more papers.