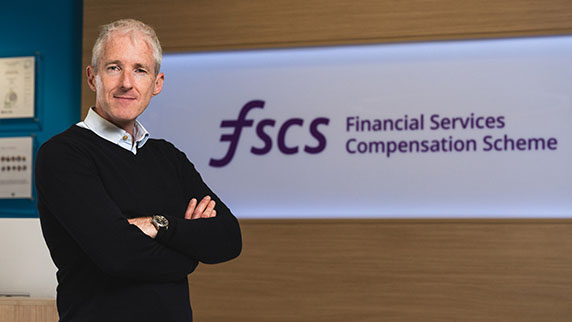 Our November 2023 Outlook
FSCS Interim Chief Executive, Martyn Beauchamp introduces our November 2023 Outlook, sharing our latest forecasts for 2023/24 and an early indication of the figures for 2024/25.
I am delighted to have recently joined FSCS and to introduce my first Outlook. This edition covers an update on compensation figures and the levy for 2023/24, as well as a first look at what we expect to see in 2024/25.
In addition to the details in this report, we have a dedicated webpage at www.fscs.org.uk/outlook where you can find extra content and the Outlook archive.
My initial impressions of the current operating environment
It is an honour to lead such an important and purposeful organisation. FSCS directly contributes to trust and stability in our financial services system and makes a genuine difference to consumers' lives.
From a claims perspective, we have seen recent trends continuing. Most of our compensation continues to be paid out for poor financial advice and for legacy insurance provider failures - both of which include some of the most complex defaults and claims we handle.
As referenced in previous Outlook updates, this continued complexity means we are always evolving our processes and structures so we can continue making accurate and efficient compensation decisions for our customers. Over the coming months, my key focus will be ensuring FSCS is well-positioned to remain a trusted, effective and future-fit compensation service.
Our latest forecasts
Currently, we expect total compensation payments this year to be £435m, a reduction of £36m from the last forecast we published in May and driven mainly by fewer claims decisions than anticipated in the Life Distribution & Investment Intermediation (LDII) class. There were a number of reasons for this including changes to how pension redress is calculated and third-party response times to enquiries.
The compensation forecasts for all other classes remain broadly similar from earlier this year. This means, for the remainder of the year, we are unlikely to require any supplementary levies from firms.
We also expect to have some surplus balances when we reach the end of March 2024. These anticipated surpluses, which are detailed against each class within the main Outlook report, will be used to offset the levy for firms in 2024/25.
Our indicative total levy for 2024/25 is £415m. We expect this levy, along with the surplus funds carried forward from 2023/24, will cover £457m in compensation payments. Our management expenses budget will be covered in detail as part of the Management Expenses Levy Limit (MELL) consultation early in 2024.
More than 80% of the total compensation forecast for 2024/25 relates to firms that have already been declared in default. This gives us more certainty in these indicative figures, which have been carefully calculated by working with the regulators and third parties such as insolvency practitioners.
Of course, things can change: unexpected defaults, changes in policy or shifts in economic conditions can all contribute to FSCS needing to pay more or less compensation than initially forecast.
As always, we will keep the industry informed of any changes to our forecasts in a timely fashion. The next Outlook will be published in spring 2024, and our Budget Update will be out early in the new year to coincide with the 2024/25 MELL consultation.