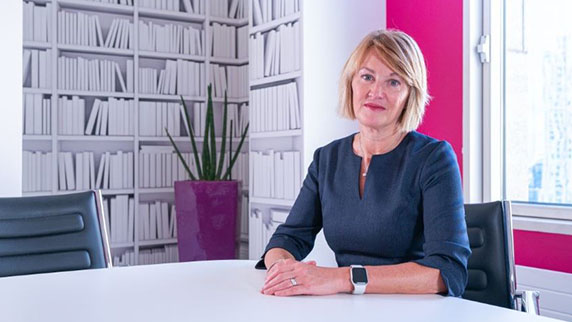 Caroline Rainbird's PIMFA Senior Leadership Summit Speech
Our CEO, Caroline Rainbird gave the keynote speech at PIMFA's Senior Leadership Summit on 9 February. In her speech she looked at how we can build trust and confidence and at the same time support the growth and success of the UK's financial industry. She also talked about how collectively FSCS and the industry can protect consumers and deal with the root causes of harm – to reduce the FSCS levy in the long term. You can read Caroline's full speech below.
Check against delivery
'It is a real privilege to be able to speak to you in person this evening in such a grand venue, steeped in so much history. It's hard to believe it was a Lloyds Bank 20 years ago!
The Square Mile, which represents the oldest part of London, has clearly seen much change over the last few hundred years since its development as the UK's main banking district. And so has the wider financial services sector. From my perspective, one of the most positive changes has been to see the number of women in senior finance roles increase during my career.
More broadly, the pace of change has really intensified in recent years with an ever more complicated financial services eco-system, and new entrants and products, some of which are unregulated, coming into the market.  Every day, consumers are facing more complex choices about where to invest as they strive to make their money go further. It is a world in constant evolution and one with which FSCS has a very real connection by virtue of who we are and what we do. 
So, this evening I am going to talk about some of the real challenges ahead and explore some of the solutions. How we can build trust and confidence and at the same time support the growth and success of the UK's financial services industry. And how collectively, we can best protect consumers and deal with the root causes of harm – to reduce the levy in the long term. There is much common ground between our respective organisations, and I very much see this as a shared journey which builds on the work already underway.
FSCS is often described in the media as a 'safety net' or a 'lifeboat scheme' and it is true that we exist to get people back on track when their provider has failed. Today, I would like to think industry leaders such as yourselves, regulators and government all recognise the key role FSCS plays in helping to protect consumers and maintaining the stability of the financial sector.
But we also do much more than that. We're passionate about preventing consumers turning into our customers in the first place and we do this by raising awareness and understanding about FSCS protection.
We recently issued a publication called the Balancing Act of Compensation, which directly addresses the issue of consumer harm. We are running consumer awareness campaigns and working closely with the regulatory family to confront scams and other forms of bad practice.
We know from our research that FSCS protection instils confidence in consumers. In recently conducted surveys, 82% of individuals, who were aware of FSCS, said that our existence increased their confidence in the financial services sector.

Providing that stability, and building that trust and confidence, supports the growth and competitiveness of our world-leading financial services sector. Our research confirmed that 68% of consumers were likely to invest more of their money knowing that their provider was FSCS protected. A powerful reminder of the importance of building awareness of FSCS and the range of financial products and services that benefit from our protection.

The financial services industry plays a vital role in the country today – in many ways it is the beating heart of the economy. Many wealth managers and financial advisors play a really important role in the industry helping to fill consumers' knowledge gaps, particularly with the increasing complexity of choices they face and during the current economic climate. Your organisations play an important part in helping consumers to make informed decisions while also ensuring they understand the risks.
We often see poor financial literacy leading consumers to make bad financial decisions that cause lasting harm and contribute to rising compensation costs. We know that there is more we can do to raise awareness and understanding about FSCS protection, and our limitations, particularly as awareness levels vary a great deal depending on the product or service being sought.
But there also needs to be a concerted effort, not just from FSCS, but regulators and the industry to close the knowledge gap amongst consumers and ensure greater clarity and simplicity of financial services products. By helping consumers to make well-informed decisions about financial products and seek advice from appropriate, and authorised, providers, we together can reduce the likelihood of them becoming our customers.
It is not just our customers that are the forefront of our minds. We also work closely with the Government, the regulators and industry bodies like PIMFA to highlight trends. expose bad actors and improve standards across the financial services industry.
We do this by sharing our data and insights with regulators to identify trends of rogue behaviour, which in turn helps to clamp down against bad actors in the system. This unique perspective means that FSCS is ideally positioned to be at the heart of the debate on helping to address the root causes of consumer detriment and ensuring better consumer outcomes.
Also, where possible and if it's cost-effective, we seek to recover the money paid in compensation from failed firms and responsible third parties. Our recoveries team plays a crucial part in helping to reduce the levy and holding bad actors to account.
We work closely with other Government agencies, such as the FCA, the Serious Fraud Office and the Insolvency Service, as well as engaging with a wide range of insolvency practitioners to pursue any viable recoveries. Over the years we have pursued recoveries against a variety of assets not only in the UK but across international jurisdictions, including the Caribbean, Turkey, Brazil and many other countries. Between 2015 and last year we recovered over £290m from the estates of failed firms. This was used to offset the levy or returned to consumers with losses above FSCS's compensation limits.
As I mentioned earlier, reducing the levy in the long term is an important part of our strategy and I can assure you that FSCS is doing everything it can, within the areas that we can control, to address this. We are also open to discussing alternative funding models if the industry collectively believes an alternative would be fairer and more efficient and would welcome suggestions from yourselves on what these alternatives could look like.
But there is no silver bullet and change will not happen overnight. Our data shows us that the lag time in consumers bringing claims to us means that almost 73% of our customers claim at least five years after initial advice has been given.
This is having a huge impact on customers, and we're hearing heart-breaking stories from people who have lost significant amounts of money, often when they are at, or close to, retirement and unable to recoup these losses.

The law must therefore keep up with the increasingly sophisticated techniques and technology used in scams. FSCS, along with the regulators and industry bodies including PIMFA, have come together to support the inclusion of additional measures to address online fraud within the Online Safety Bill. I, like many of you I'm sure, hope to see further progress on this soon.
So to conclude, if the UK's compensation framework is to continue to fulfil its important role of helping to enhance trust in UK financial services and drive a healthy and prosperous economy, we will need to be bold and continue to encourage innovation in tackling bad actors and the harm that they cause to consumers and the levy.
As we go forward, our shared goal must be to ensure that consumers have the confidence, skills and the safeguards of a strong regulatory regime in all their dealings with the financial industry. This will hopefully mean that whilst they benefit from the trust and confidence that our protection provides, they have no need to become a customer of FSCS. That way, we all win.
Thank you for listening and I hope you enjoy the rest of your evening.