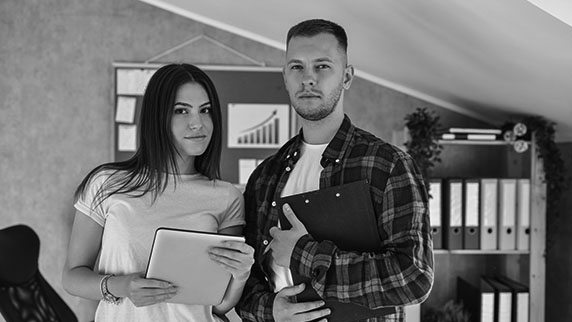 Technology is at the heart of FSCS's plans to improve our customer experience
At FSCS we've put technology at the heart of our plans to improve our customer experience as we adapt to the changing nature of the claims we're receiving from customers.
FSCS has made good progress over the last year, investing in technology to make our processes more efficient and more cost effective. This will help us deliver an even higher quality service for customers and provide the best value for the levy payers who fund us.
When FSCS makes claims decisions, it has to refer to a series of rules set by the regulator. Advancements in technology are helping us to perform these statutory functions as efficiently and effectively as possible. Over the last few years, the number of relatively straightforward claims we've received to assess, like those relating to PPI have reduced, with the number of more complex claims such as those relating to pensions and investments increasing.
These more complex claims can take much longer to process as they require much more evidence and documentation from customers or third parties, which all must be worked through before we can make a decision. Often the assessment of an individual claim for compensation itself is straightforward. The challenge lies in first understanding the product that caused the loss and the activities the firm that has failed was doing. These are just some of the essential requirements we need to satisfy in order to determine whether or not there are valid claims that come within FSCS protection.
In responding effectively to the changing nature of the claims we receive, we are committed to investing in technology and finding and developing new, innovative ways to help us process claims. We are investing in our people and systems to enhance our claims handling capabilities so we can effectively look ahead, plan for the future and respond efficiently and effectively with the changing claims landscape.
While FSCS does not use Artificial Intelligence (AI) to assess claims, we have found that it can help our specialist claims handlers with the information processing phase of a claim, helping them identify more quickly the relevant information that they need to review when deciding a particular issue. This frees them up to focus their time on what they need to do to reach the right outcome on a claim. This is really important as a significant amount of time spent during the claims process is spent gathering evidence from third parties to build a full picture of the firm's activities at the point of failure and enable us to accurately decide whether there are valid claims and then get the right decisions to affected customers.
If we can reduce the manual handling time for each claim we process we can cut the overall time a customer has to wait for a decision on their claim for compensation. This is because we can save time requesting and chasing information from third parties, enabling us to get our customers back on track at the earliest opportunity, while continuing to ensure the outcome on their claim is the right one.
Developments in technology are also enabling us to increasingly proactively analyse and assess the entire data set from a failed firm when determining whether there are valid claims in connection with the firm's activities. This can happen without even needing to require information from individual customers.
This means that in the future we might be able to proactively contact customers of a firm in default about potential compensation they may be entitled to, reducing the steps that they need to take.
Our aim is to bring in specialist resources where necessary, but also to develop our own in-house capabilities in vital areas such as data, insight and policy. A good example of our in-house technology capability we have been developing over the last few years is our resolution data lake (RDL) and search tool. The data lake is a large pool of unstructured data where we use machine learning to search and highlight keywords. This significantly reduces the time it takes to find key documents that are relevant to us, understand the product that a claim relates to, and what the firm that has failed was doing.
In the past year we have also started trialling software that is better able to process information contained in forms. It uses advanced AI to extract text, tables and structures from documents automatically and accurately. This allows us to turn documents into usable data, and shift more of the focus and time of claims handlers to actually assessing and acting on the information rather than gathering or compiling it. It's still going through the testing phase but we'll be spending the next six months building these capabilities into our RDL.
Until recently our software has struggled with things like tables and check boxes in documents, but the new software is much more powerful, and it is able to draw out the details from these, as well as being able to read handwriting. We are planning to be able to use it to help extract 'application form' type responses from firms to load into our inhouse systems.
We also give very careful thought to how we store information and data, ensuring that we have mechanisms in place to guard against security breaches. We've able to take advantage of other benefits from new technology, such as being able to automatically split information from failures of larger firms into batches​. This improves recovery in case of failure and makes it more efficient to deal with large loads of data.​ We can also save money by minimising our data storage footprint. The diagram below shows how technology helps us process and manage our data while maintaining our security standards.
Figure 1: How we process our data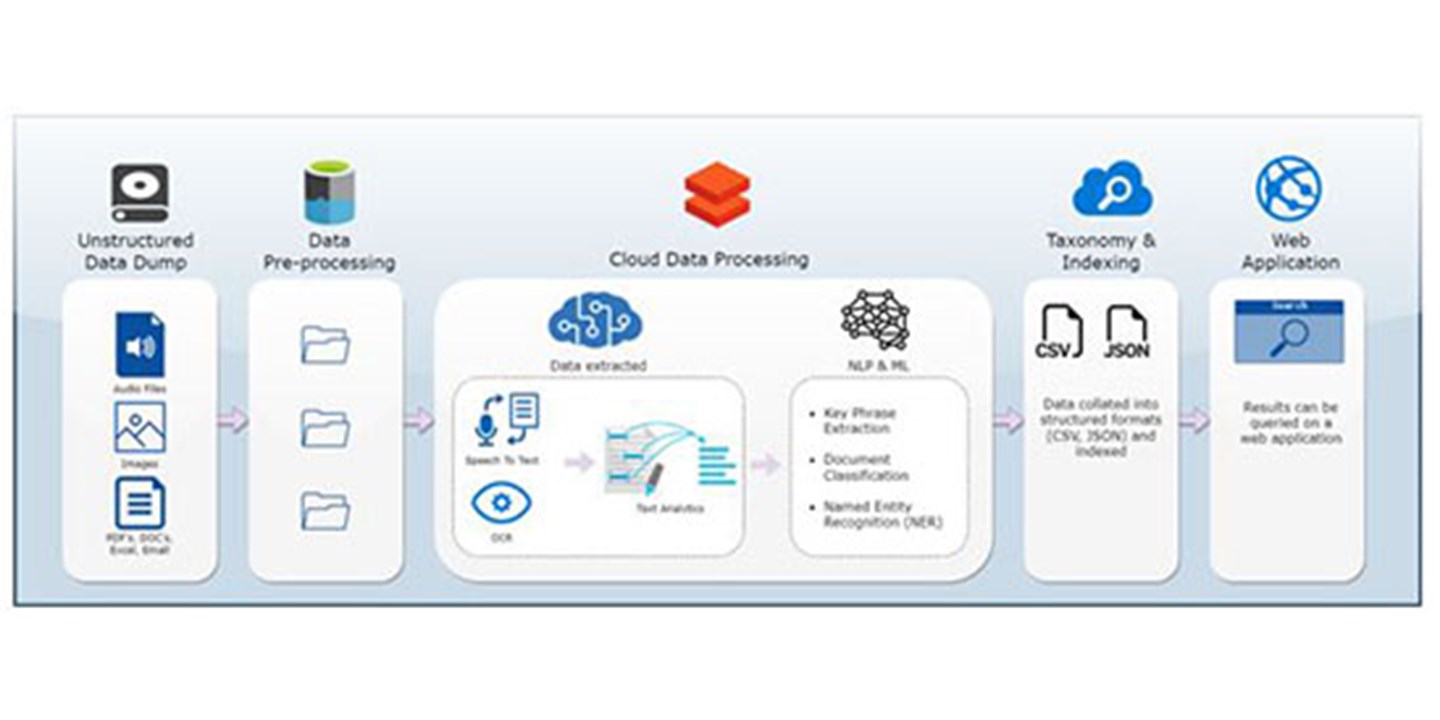 Over the past year we have also worked with our partners to upgrade our core claims processing system, used for the end-to-end claims process and to carry out assessment and payment of compensation claims to customers. The upgrade involved a significant design and discovery process over a three-month period, followed by a six month build process. The work was completed in March 2023, with minimal disruption to staff and customers. As a result, we now have a more efficient system, which is better integrated with the internal services we have today and those we plan to implement in the future.
During the year we also completed a two-year programme to migrate all our applications from our Data Centre and Head Office to the cloud. Not only will this save the organisation money by ensuring we only spend on technology services we actually use through our cloud provider, it will help to 'futureproof' the technology we use. We have already started making use of capabilities our new platform provides such as a 'virtual desktop', which is helping us to ensure our data remains secure while retaining the ability to share and work on the same applications with our outsourcing partners. The migration of our payment solution to the cloud has enabled us to incorporate features on our cheques to reduce the risk of fraud by ensuring that marks remain on the cheque in a digital format after scanning.
At the heart of our work with technology is a set of principles which guide each solution we are working towards (see figure 2).
Figure 2: Technology principles at the heart of our tech work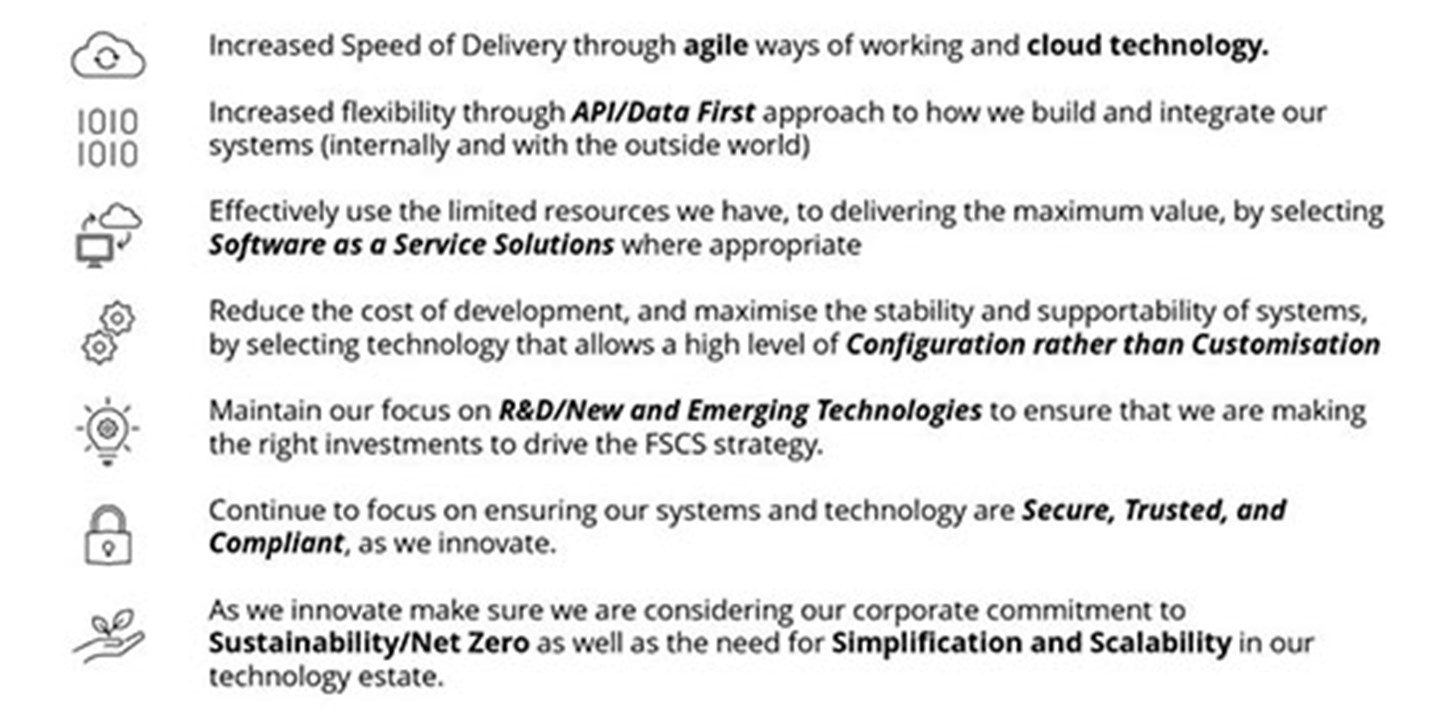 Alongside all the development and focus currently on machine learning and AI, the human element is still really important in the work that FSCS does, and we still place great importance on recruiting and training the right people with the right skills. Alongside developing technology, we have also been actively trying to build diverse teams who can bring their thinking and lived experiences into solution design. Our ways of working are constantly evolving but as we strive to innovate, we are confident that investment in technology and our staff means we are better able to attend to our customers more effectively and efficiently.
You can find out more about how we are investing in the future in our recent podcast on futuregazing.